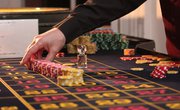 /latest/2019/05/monero-transactions-hit-new-all-time-high-thanks-to-social-gambling-game/
Privacy-centric cryptocurrency Monero (XMR) has recently seen the number of transactions on its network reach a new all-time high after over 15,000 transactions were processed in a single day, partly thanks to a gambling game.
According to BitInfoCharts data, the Monero blockchain doesn't cross the 10,000 transactions per day mark very often, and before this new all-time high the last time it did was in January of 2018, when it was trading close to its $400 all-time high.
The significant spike in daily XMR transactions appears to be related to the launch of a "social gambling platform" that allows users to gamble with their XMR while supporting the privacy-centric cryptocurrency's development team.
The game, called Minko, was launched last month during XMR's fifth anniversary, and the developers behind it have revealed the profits made during its first month are set to be donated to the Monero general donation fund. The game's developers noted in its announcement:
We wish to keep financially contributing long term to Monero development and will define the best way forward after this first month (with more knowledge of what to expect in terms of traffic).
The cryptocurrency's price doesn't appear to be reacting to the increased amount of transactions. According to CryptoCompare data, XMR is currently trading at about $69.2 after rising 4.7% in the last 24-hour period.
The cryptocurrency's positive performance so far today appears to be related to a wider market rally seemingly caused by institutional investors and Facebook showing interest in the crypto ecosystem, with the latter reportedly looking for partners to launch a cryptocurrency-based payments system.
Bitcoin, the flagship cryptocurrency, is currently trading over the $5,800 mark after seeing its price rise by 6.7% in the last 24-hour period. Most other altcoins have seen their prices rise after BTC jumped earlier today.
A game like Minko is currently able to thrive on the Monero blockchain thanks to an upgrade implement late last year, the slashed XMR transaction fees by more than 90%. The upgrade, implemented through a hard fork, included "bulletproofs" to do so, and was so successful various crypto exchanges lowered their withdrawal fees for Monero as a result.
It's worth noting the privacy-centric cryptocurrency, which became increasingly popular after being accepted on some darknet markets, is thriving at a time in which these are struggling, as one of the most popular marketplaces, Dream Market, recently shut down and transferred services to new management.