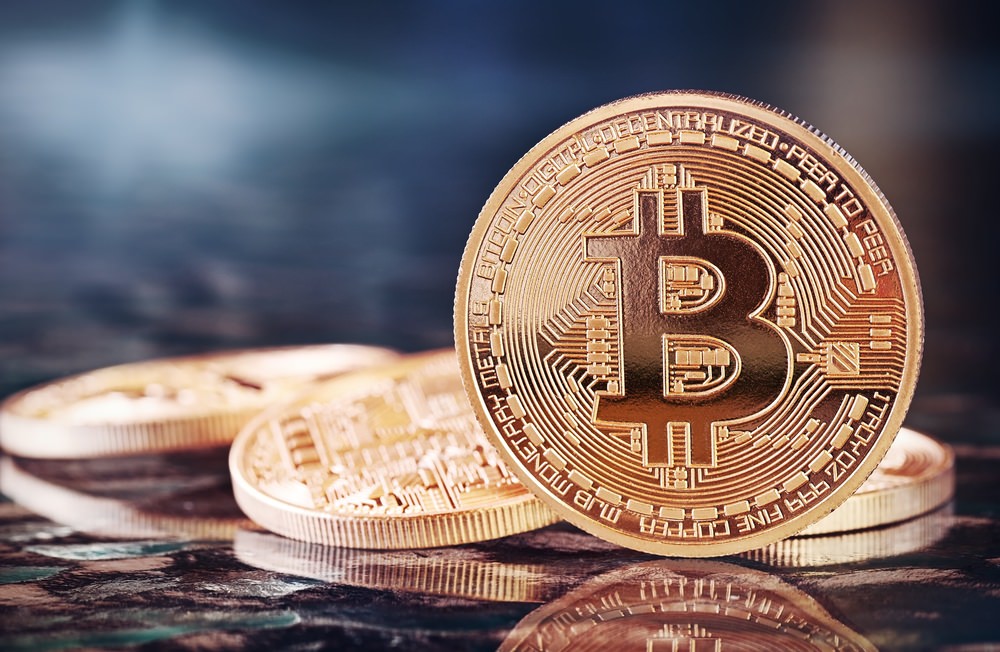 Quick Take
Binance (BNB-USD) has announced it will double the referral commission rewards from 20% to 40% for all accounts holding 500 BNB or more.
The new scheme took effect on May 19, 2018, for all users affected. Those with a BNB balance below 500 will remain in the 20% tier.
Binance is in a period of transition as it moves its headquarters, deals with regulatory and competitive pressures and seeks to decentralize its trading platform.
Company & Technology
Shanghai-based Binance was founded in 2017 to provide a safe platform for users to trade their digital assets. Binance first launched their referral program seven months ago with a commission reward of 50% from the trading fees of each referral. The program was later adjusted to 20% two months later.
Management is headed by CEO and Founder Changpeng Zhao, who has been with the firm since its inception and was previously the CEO of BijieTech, a company he also founded.
Below is a video of how to use Binance:
(Source: Crypto Bobby)
Investors invested $10 million in the company in its series A funding round and include Black Hole Capital, Funcity Capital, Sequoia Capital and Limitless Crypto Investments.
Binance's primary functionalities include:
Multi-tier & multi-cluster system architecture
Compatible with Web, Android, iOS, Mobile Web, Windows, macOS
Capable of processing 1,400,000 orders per second
Support and FAQs available in multiple languages
Multiple-Coin Support
(Source: Binance)
Market & Competition
The market for cryptocurrency trading has exploded with the dramatic increase in consumer awareness at the end of 2017.
At one point, Binance was adding 250,000 new users per day. Since the drop in price for Bitcoin from a high of $20,000 to its current level of around $7,500, the volume of trading has also moderated due to consumer pullback.
Major competitive vendors that provide exchange services include:
BitMex
Coinbase (COINB)
Poloniex
Bitfinex

Deribit

Kraken
Bitstamp
Bitpay
CircleUp has since acquired Poloniex for its centralized exchange and Coinbase has acquired Paradex for its decentralized, 'bulletin board' exchange.
Commentary
Binance is considered the highest volume crypto-to-crypto exchange currently operating. It's no surprise since the founders were already experienced exchange builders in their previous work activity.
However, in the fast-moving crypto space, new entrants and existing players are making moves to gain their piece of the trading and investment action.
Also, major U.S. banks are looking into setting up trading operations, which if true, may presage more institutional activity in the space.
Coinbase, the major U.S. fiat-to-crypto online service, is also expanding its range of offerings to provide trading and custodial services for the full gamut of entities, from individuals to large institutions as it attempts to remain at the forefront of industry mindshare and trading profits.
Exchanges can be extremely profitable. For Q1 2018, Binance announced a net profit of $200 million and used $30 million to buy back some of its BNB tokens.
Management intends to use approximately 20% of future profits to 'buy and burn' BNB tokens - effectively a share buyback program to increase the value of the remaining tokens.
The other 80% of net profits will be returned to equity shareholders.
Notably, the firm is the subject of an investor lawsuit brought by Sequoia Capital. Both parties have asserted their actions as within the law, so arbitration or the courts will need to decide the outcome.
The project's token (BNB-USD) has performed quite well over the past six months, as the chart below indicates: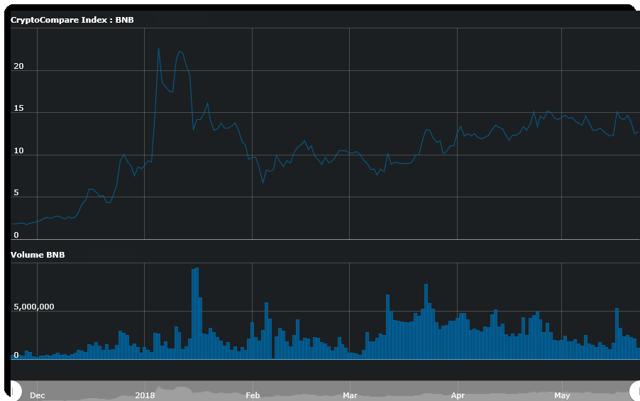 (Source: CryptoCompare)
The token currently trades at around $12.78, up from its original price of approximately $2.00 in November 2017, for a 6.3x return within six months.
Upside catalysts for the token in the near-term appear muted as the firm is in the midst of a relocation effort out of Hong Kong for a more favorable regulatory haven for its headquarters operations, most likely in Malta.
Binance CEO Zhao has also indicated the firm intends to invest heavily in transitioning to a decentralized market model. This will require the use of cash flow that would have otherwise been earmarked for token buybacks.
Additionally, an ongoing bear market for bellwether cryptoassets Bitcoin (BTC-USD) and Ethereum (ETH-USD) continues to affect trading volumes for nearly all tokens, negatively impacting topline revenues and net profits.
If the drop in trading volume continues, lower net profits will result in reduced token 'buy and burn' operations on a quarterly basis, leading to softer price appreciation.
Longer term, Binance's outlook is uncertain due to major market players seeking to expand into the trading space.
Given its preeminent position in the current environment and smart moves like incentivizing its loyal users with a higher referral bonus, I wouldn't bet against CEO Zhao, but he will need to navigate a rapidly changing environment with a nimble approach if the firm is to continue its growing and profitable ways.
Disclosure: I/we have no positions in any stocks mentioned, and no plans to initiate any positions within the next 72 hours.
I wrote this article myself, and it expresses my own opinions. I am not receiving compensation for it (other than from Seeking Alpha). I have no business relationship with any company whose stock is mentioned in this article.