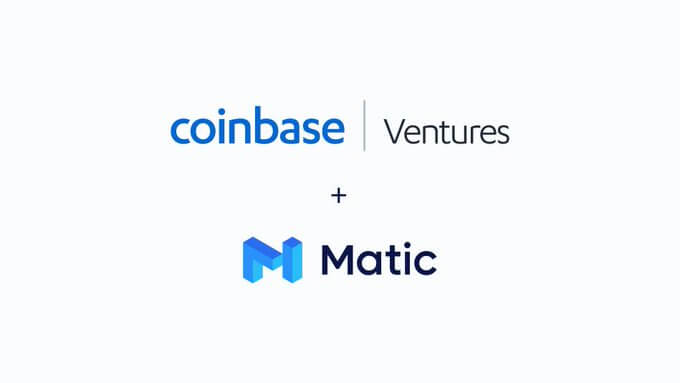 It says '
healthy competition is good for business, and really at the end best for end-users'
. Binance and Coinbase are two of the leading name among the world's well-known cryptocurrency exchanges.
According to the latest post of Matic Blockchain project, an investment venture of Coinbase is investing in Matic's seed round. Per the announcement, seed funding will be aligned with Matic project's vision of increased adoption and enhanced usability, scalability and assist them in the long-term vision of decentralized application.
Backed by Binance launchpad, Matic Network (MATIC) is an Ethereum-powered layer-two scaling solution which uses sidechains for off-chain computation, Plasma framework for asset security and also a decentralized network of proof-of-stake validators. The project's native token 'MATIC' was recently finished its first public sale via Binance's launchpad. Although the crypto community assumes, Coinbase and Binance as competitors but the matter is quite interesting and varied here.
Coinbase's announcement to be Matic's seed investor was revealed via Matic's official blog post on April 29 which was later shared on its Twitter handle. Matic team took to Twitter and announced the excitement of Coinbase's investment arm;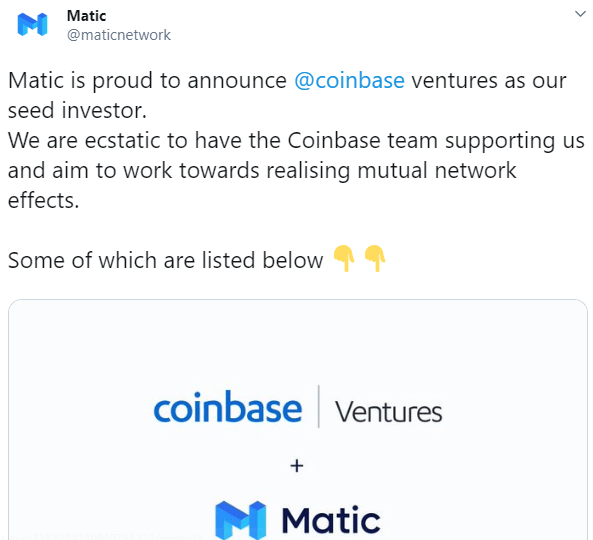 Matic's twitter handle further describes the terms as follows;
– To enable real-world commerce Matic will be integrating USDC on its sidechains –
– Coinbase wallet users can leverage Matic network to transfer and trade assets instantly –
– DApps deployed on Matic will be easily accessible from Coinbase Wallet
Per the blog post, Matic wallet gets in collaboration with Coinbase wallet which later helps user shift their assets from Ethereum network to Matic. It reads that;
Once the user's assets are on Matic, they will be able to transfer and trade them on Coinbase Wallet instantly. Users can use DApps built on Matic directly on Coinbase Wallet's browser or can use wallet connects to access them through Matic Wallet.
While Coinbase kept his investment arm on Matic, Binance CEO, CZ took to Twitter and expressed his view as both the companies are Companions rather than Competitors. In his Twitter handles, CZ says that
Companions, not competitors in supporting good projects, and grow the ecosystem together.
Nevertheless, Coinbase Venture's effort as an investment firm since its launch in 2018 is notable– in fact, it made its investment presence across 30 blockchain and crypto oriented projects.
So readers, what's your stake on Coinbase funding Matic project? Let us know in the comment below.
Summary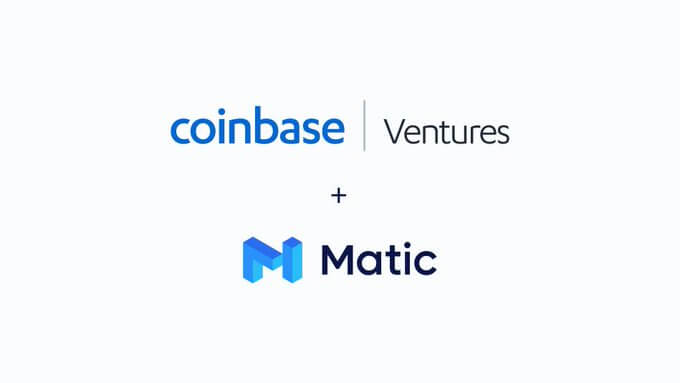 Article Name
Coinbase Gets Bullish on Binance Launchpad backed Matic Project [MATIC]
Description
It says 'healthy competition is good for business, and really at the end best for end-users'. Binance and Coinbase are two of the leading name among the world's well-known cryptocurrency exchange.

Author
Tabassum
Publisher Name
Coingape
Publisher Logo
http://platform.twitter.com/widgets.js