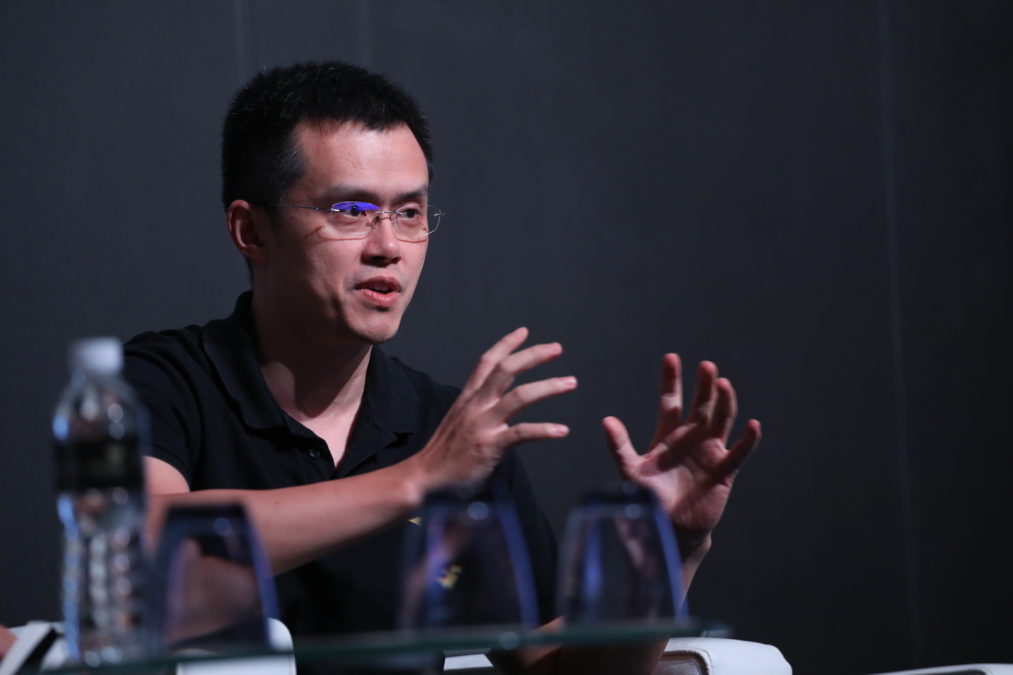 Quick Take
Binance is said to be building out its much-rumored derivatives platform featuring perpetual swaps
This move may pit the popular spot exchange against derivatives giant BitMEX, which invented perpetual swaps and has been raking in millions from them
Binance may define its edge in the market by building a matching engine that works better than BitMEX's, which is plagued by the system overload problem 
Binance is looking to gatecrash the crypto derivatives market, a move that can put it up against exchange giant BitMEX.  
Talks that the world's largest crypto exchange by volume is building a derivatives trading shop have been going on for a while, with few details disclosed to the public. However, smart order routing firm Bitsian CEO Raakhee Miller and CTO Steven Brucato told The Block that Binance is building an exchange platform that offers perpetual swaps, a derivatives product unique to cryptocurrencies and popular in Asia. 
"Perpetual swaps are a crypto invention and I think that's the nature of the contract that appeals to that side of the world (Asia) for sure," said Miller.
A perpetual swap is similar to a futures contract except that it has no expiration date and its settlement occurs every several hours. An invention of crypto derivatives exchange BitMEX, it has netted the firm millions of dollars. Currently, OKEx and BitMEX are two of the biggest perpetual futures exchanges in crypto. In March, the two firms processed a daily derivatives volume of over $2.1 billion. 
Brucato and Miller are also advising Binance on building the matching engine for its derivatives platform. Matching engines are algorithms that match buyers and sellers automatically. The technology is the core to many exchanges, and Binance itself has previously built a matching engine for its decentralized exchange testnet.
BitMEX, one of Binance's biggest competitors in the derivatives market, runs an allegedly insufficient matching engine that cannot process all the orders the platform receives. This problem of system overload has been haunting BitMEX for years and has caused many complaints among traders. Brucato said that Binance is trying to bypass this problem by developing a better matching engine and restraining how fast traders can send their API requests.

"The Binance market should not have this problem due to 1) a higher capacity match engine, and 2) rate limits on the API that prevent this from happening," Brucato told The Block.
The derivatives war
Binance is not alone in trying to break into the derivatives market. Throw a stone at a conference and you will hit someone trying to do a derivatives exchange. Derivatives shops are racing to offer as many products over as many coins as possible and have snared a substantial market share.
BitMEX is looking to offer options trading in addition to its popular perpetual swaps; Derebit trades both options and futures and just expanded its services from bitcoin to ethereum. CoinFLEX dominates the physically delivered futures market in ethereum and bitcoin, and most recently added bitcoin cash to its list.
"Futures liquidity has been centralized on BitMEX and Deribit. Interesting to see if Binance can steal some of that flow… not sure how easy it will be to take some of that away from BitMEX," said Darius Sit, managing partner at crypto trading firm QCP Capital.
Formula to success
How does Binance stand against all these try-hard competitors? For one thing, the firm has a massive, global client base, unmatched by other exchanges. This provides it with a solid starting point to potentially win some liquidity.  
"They have a pretty robust clientele that connects to their existing endpoints. I think we're going to start with that," said Miller.
In addition, exchanges like BitMEX and OKEx are unregulated and thus have more relaxed KYC checks, which means that investors on these platforms are exposed to higher default and liquidity risks. If Binance can obtain regulatory approval for its derivatives shop in the U.S., it may already have an edge over other exchanges.
The winning formula for Binance seems to be offering a diverse portfolio of derivatives products that are paired to many coins, obtaining regulatory green light, and building a system that doesn't crash too often. Even so, with fierce competition and uncertainty in getting government approval, no formula can guarantee Binance's success in the derivatives market.
Frank Chaparro from The Block contributed reporting.