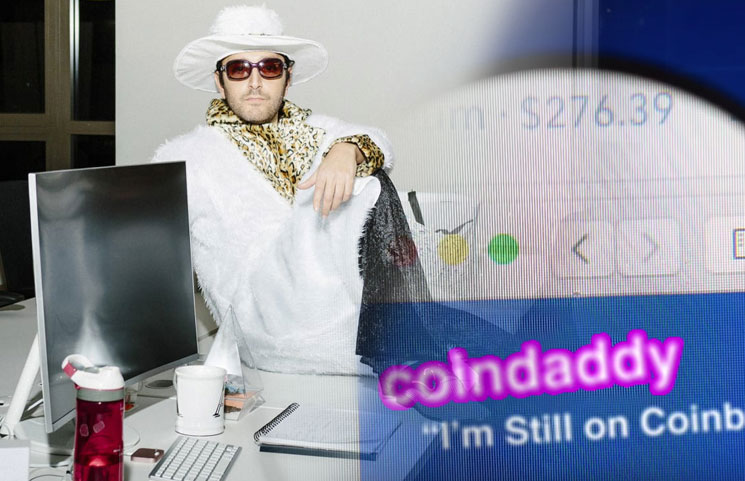 Crypto Rapper CoinDaddy: People Love My Music
CoinDaddy first came into the limelight after featuring in the New York Times in January last year. Back then, the crypto rapper had ditched his job in the real estate industry to advocate for the adoption of cryptocurrencies through music.
In the aforementioned article, CoinDaddy was pictured wearing expensive designer clothes. The Bitcoin millionaire also revealed his plans to release crypto-based parody music videos called 'Lambo Party' and 'Crypto Mom'. However, not much has been heard of CoinDaddy since the beginning of the bearish run in the crypto markets. Now BreakerMag has uncovered his next "hit."
CoinDaddy, whose real name is Arya Bahmanyar, is currently living in San Francisco. He insists that everything is fine, adding that through his 6 years in crypto trading, he has experienced both bullish and bearish trends severally. Arya stressed that, like other investors, he is adapting to the challenges that have seen Bitcoin's value drop to below $4,000.
Despite the problems facing Bitcoin, Arya believes that his parody songs are bleaker and better. His latest video, known as "I'm still on Coinbase," is a parody rendition of the Backstreet Boys' "I Want It That Way." The objective of the song is to influence investors to remove their private keys from the Coinbase exchange. With the ongoing hacking saga at Coinbase, it is perhaps the best time for Arya to release this track.
The Impact Of The Bear Market On CoinDaddy's Music
Surprisingly, the bear market has had a positive impact on the popularity of Arya's music. This is because he adapts the themes of his songs to the prevailing market conditions. For instance, when the value of Bitcoin was $20,000, he realized ecstatic music. Contrariwise, during the bear run, CoinDaddy has been producing songs full of melancholy and hope.
His song, called "Bulls on Mars", is a cover based on David Bowie's "Life on Mars." The song is essentially a dirge detailing the challenges that Bitcoin has experienced over the past year.
Who Listens To CoinDaddy's Music?
In February 2018, CoinDaddy experienced what he calls the 'weirdest' interaction with a fan in his music career. He was at a crypto awards when a mom approached him, identified him as CoinDaddy, and then told him that her eight-year-old son liked his music. This certainly surprised Arya. Indeed, he contemplated changing his content because it is not intended for kids.
CoinDaddy asserts that the majority of his fans are male. Although a few women listen to his music, he believes that the female population isn't 'too keen' on his style and content.
Any Celebrity Fans?
Apparently, Akon is a fan of CoinDaddy's Music. The two met through a girl who was excited by the idea of a collaboration involving Akon and CoinDaddy. Unfortunately, it never became a reality.
Another prominent individual that listens to CoinDaddy is DJ 3LAU.
CoinDaddy's Style
He might be a rapper, but CoinDaddy doesn't freestyle – all of his songs are written. Because of this, Arya labels himself as a content creator. He also says that anybody can do hip-hop music.
What Would Happen If Times Get Tougher?
Arya doesn't rule out the possibility of substance abuse if the adverse conditions persist. He mentioned that the songs continue to express more desperation as the bear market goes on. He is, however, grateful for the inspiring comments issued by his fans on YouTube. In fact, he is fazed by the amount of positivity shared by his viewers.
So, Does Everyone Love CoinDaddy?
Well, everyone in the comments sections seems to love CoinDaddy. The situation might be different outside YouTube, but all indicators point at widespread popularity and love.
Today's Top Crypto Coin Price Predictions: Bitcoin (BTC), Ethereum (ETH), Litecoin (LTC) and EOS Forecast