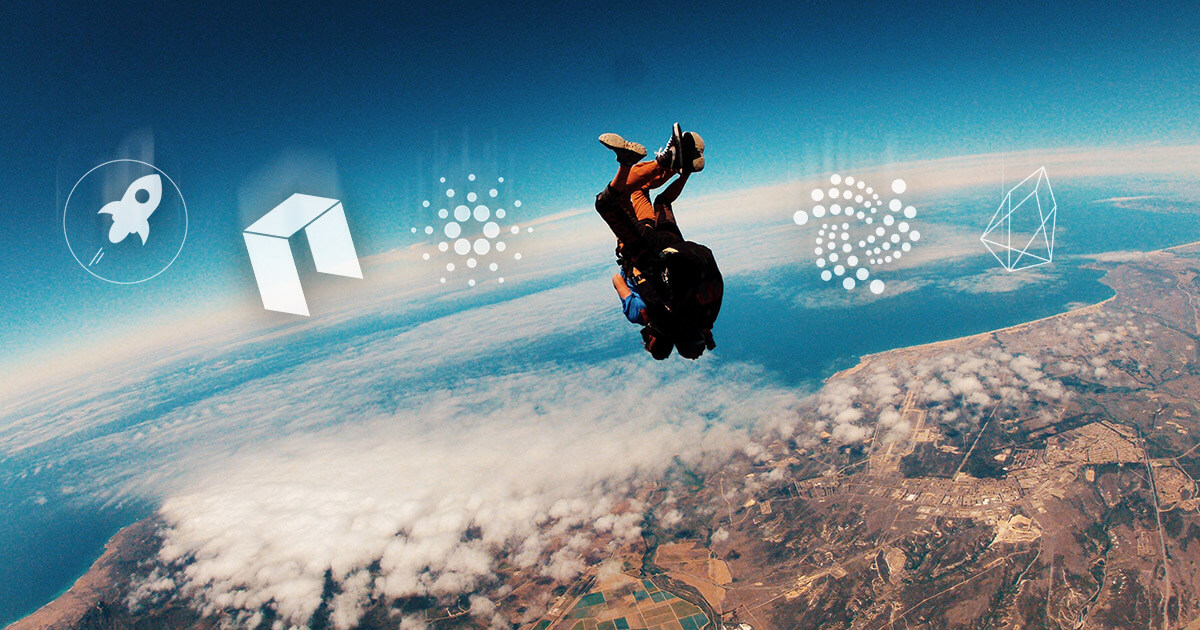 The cryptocurrency market continues to plunge downward. Cryptocurrencies and altcoins are trapped in the red, with major players like Bitcoin and Bitcoin Cash have shed hundreds off their previous value in less than 24 hours. Smaller assets, like XLM, ADA and EOS incurred lighter losses and are continuing to suffer from the overall market downturn.
Stellar Lumens (XLM)
At press time, Stellar Lumens is trading for 28 cents. That's about three cents less than where it stood during our previous price discussion.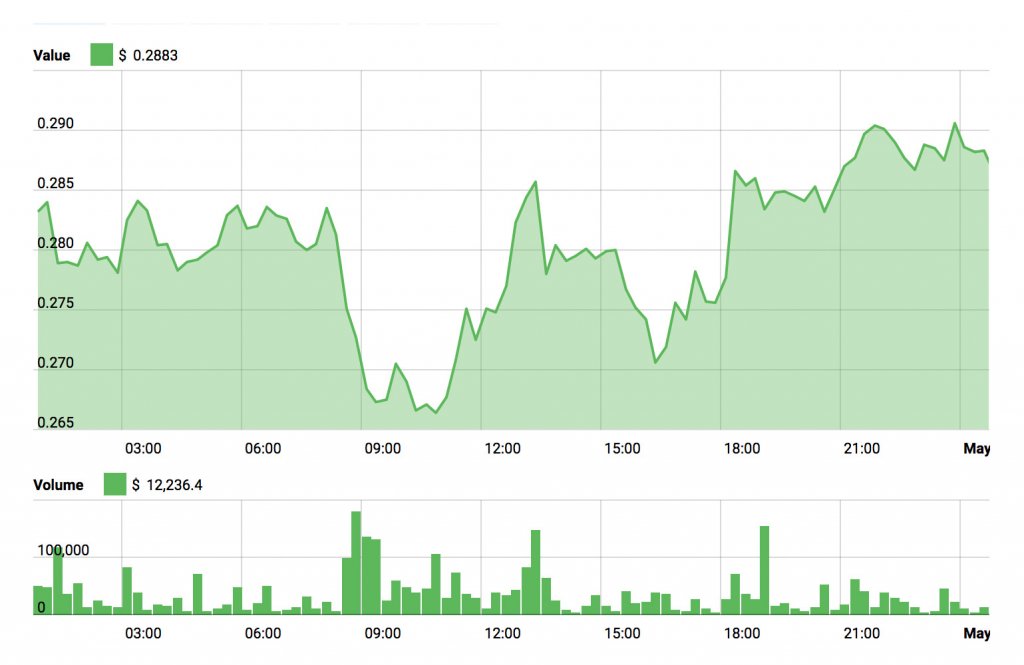 Despite the fall, the team behind XLM remains positive and announced the platform's 7th build challenge, a program that brings developers and crypto experts together to create new applications backed by the Stellar blockchain.
In the past, Stellar Lumens build programs created applications like the Soneso Stellar iOS SDK, which provides a client library for the Horizon API; Stellarport.io, a community-designed exchange platform, and Stellar Expert, a mobile-based block explorer.
The submission period will remain open from June 1 to August 15 of 2018. The grand prize winner is eligible to receive 200,000 XLM, while runners-up will each receive 80,000 XLM.
Cardano (ADA)
Cardano has dropped by roughly four cents since our last price article, now trading for about 20 cents.
As the world's 7th-largest cryptocurrency, Cardano is likely to rise in the coming months, according to CEO Charles Hoskinson. In a recent interview, the crypto executive confidently stated that he believes Cardano could overpower both Bitcoin and Ethereum in the future thanks to what he considers "original" blockchain features, and a multi-layer data processing model that can onboard commercial customers that would normally go unprocessed by Ethereum and Bitcoin.
He also mentioned that ADA is supported by major entities like the Cardano Foundation, Input-Output Hong Kong, and the Japanese trading company Emurgo.
NEO (NEO)
NEO is trading for $52, a $7 drop since our last price piece.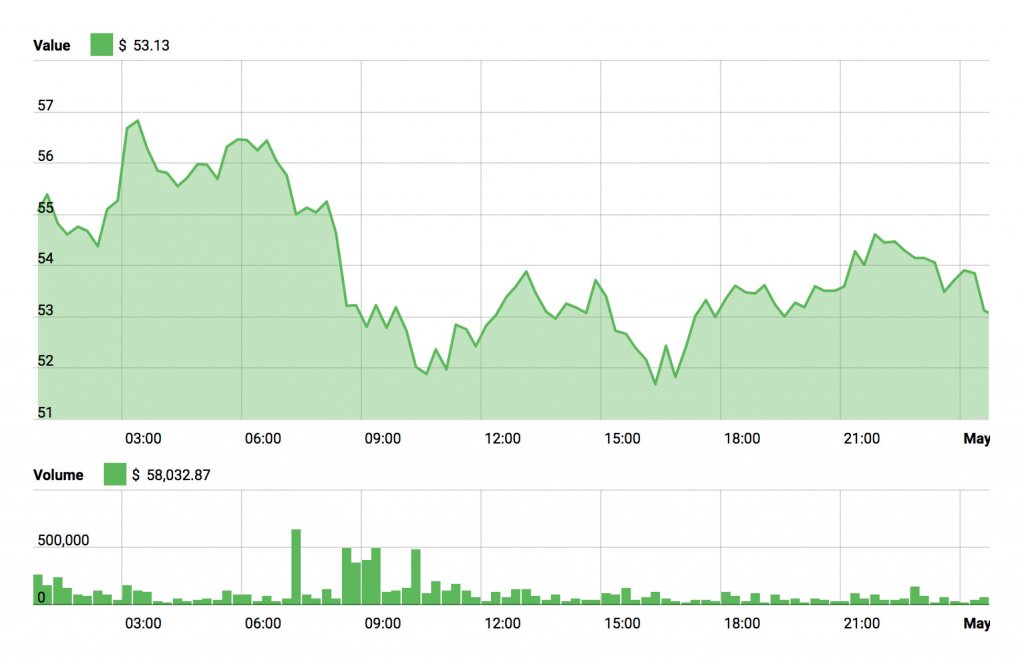 Recently, the first NEO-based gambling system was released to the public. Known as Neoplay, the platform offers anonymity to users and implements low house commissions of approximately one percent – a drop from the 5%-7% figures typically seen with other cryptocurrency gambling platforms. Neoplay also allows customers to play on both the Ethereum and NEO blockchains.
EOS (EOS)
EOS has fallen by nearly $2 since our last price article and is now trading for $10.93.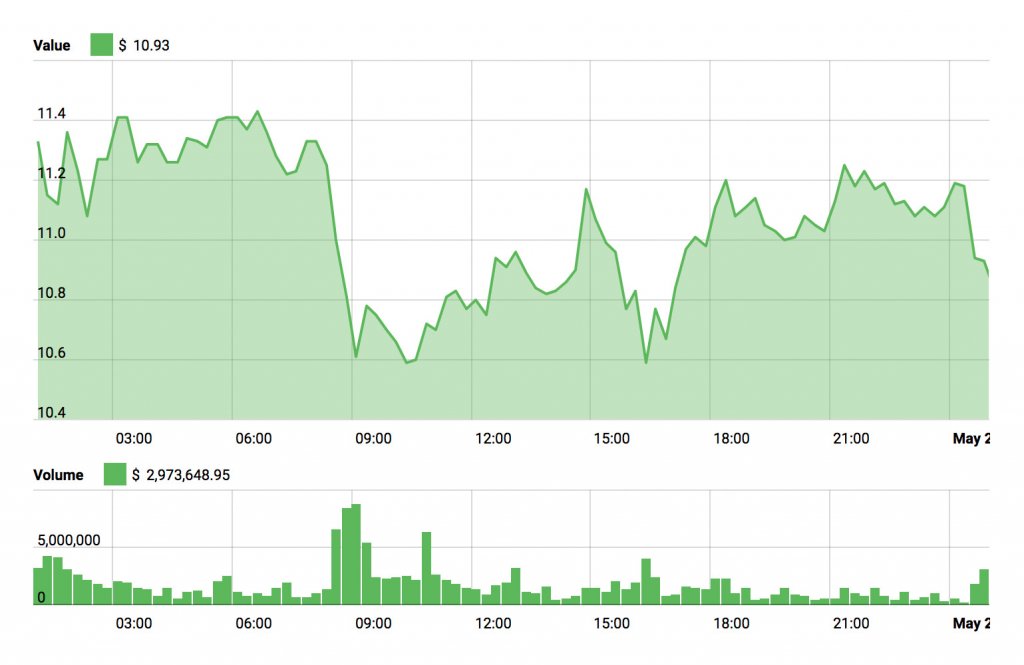 The launch of EOSIO 1.0 is set to occur in less than two weeks. EOSIO 1.0 will work to convert all the original EOS tokens to the new platform, thus ensuring that EOS becomes a "proper coin."
IOTA (IOTA)
IOTA has fallen to $1.49, over 27 cents less than where it stood during our last price discussion.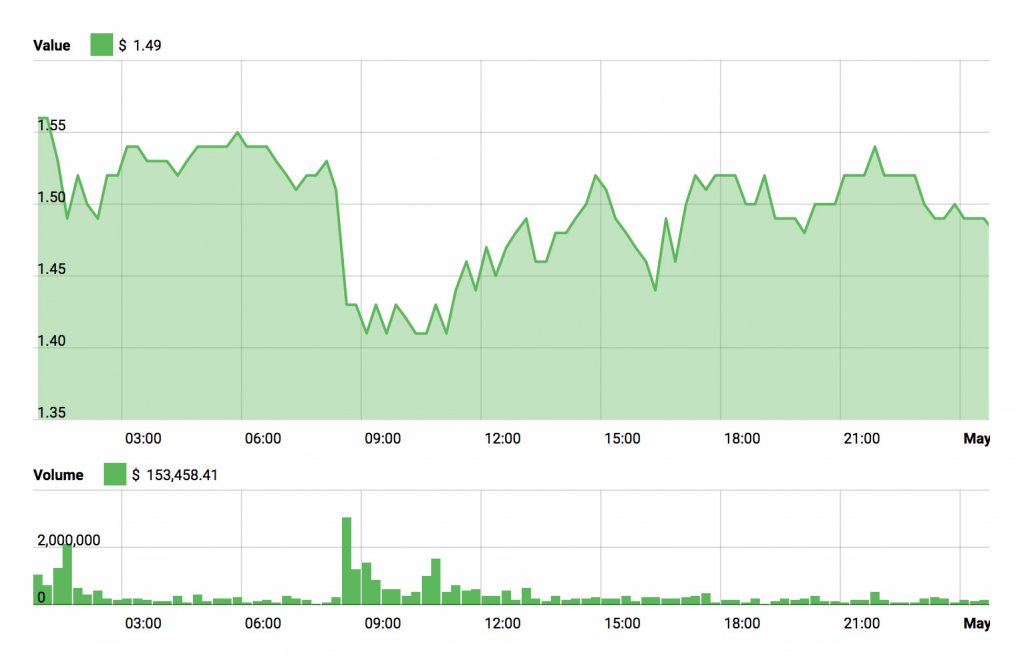 Perhaps the biggest news this week pertains to IOTA, as the currency announced a partnership with the United Nations office for project services. The plan is to bring "efficiency and transparency" to the United Nations' dealings. The body will utilize IOTA's technology to boost efforts in humanitarian projects, security, and global infrastructure development.
The association's special advisor on blockchain Yoshiyuki Yamamoto explained:
"We share a vision where machines, devices, sensors and people connect and communicate with each other. It's the world of 'Industry 4.0.' Harnessing technology that allows for these processes to work simultaneously, without the need for intermediaries, will help expedite our mission as an organization."
Market Summary
The cryptocurrency space has shed about $16 billion off its total market cap since our last price piece, and now sits at the $328 billion mark. The market continues to sink lower and it is unclear when these bearish trends will subside.
Traders are warned to be extremely cautious, as cryptocurrency investments remain extremely shaky and volatile.
Cover Photo by Muzammil Soorma on Unsplash
Did you like this article? Join us.
Get blockchain news and crypto insights.
Recommended For You
http://platform.twitter.com/widgets.js