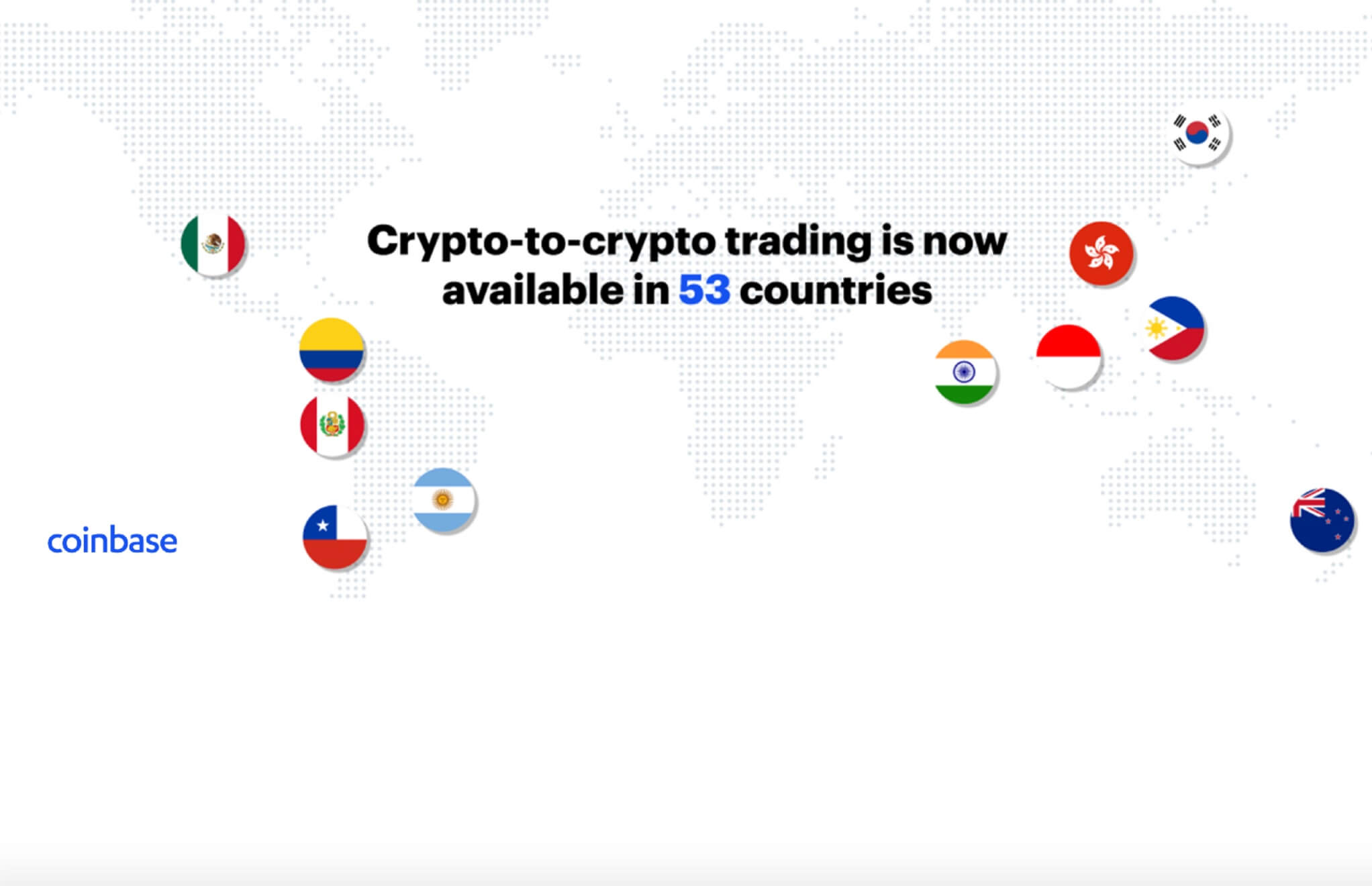 US-headquartered digital currency exchange, Coinbase, is expanding its crypto-to-crypto opperations by launching in 11 new countries across Latin America and Southeast Asia, allowing customers to store, trade, send, and receive cryptocurrencies on Coinbase Pro and Coinbase platforms, the company announced on Wednesday, April 17.
Coinbase is trying to catch up with its main competitor Binance by increasing the reach to 53 countries, spread across four continents.
"Over the past 12 months, one of our main priorities has been to bring Coinbase services to people in all corners of the globe," said the company in an official announcement.
Colombia, Argentina, Mexico, Peru, Chile, India, Hong Kong, South Korea, Indonesia, the Philippines and New Zealand are among the 11 new countries Coinbase is expanding crypto-to-crypto support. As of today, citizens living in these countries can open Coinbase and Coinbase Pro accounts as well as download Coinbase iOS and Android apps to access crypto-to-crypto trading options.
"Direct trading between cryptos is increasingly the new norm and in the last year has overtaken traditional fiat to crypto trading across the globe. Millions of Coinbase customers can now securely and quickly trade between different cryptos and send crypto off-platform at their convenience," noted the exchange.

"Realizing our mission of creating an open financial system for the world starts with making it as easy as possible to access crypto. With today's announcement, we're happy to take an important step in that direction," reads the announcement.
Today we welcome customers from 11 countries in Latin America and Asia to the #cryptoeconomy with crypto-to-crypto trading. Read up on the news: https://t.co/j0pxcTxzE0 pic.twitter.com/yR5rkVYjeW

— Coinbase (@coinbase) April 17, 2019
"As crypto moves from the current "investment phase" into what we call the "utility phase," a host of new use cases will present themselves. This could take the form of decentralized versions of traditional financial services like lending or micropayments or truly novel crypto applications that no one has even thought of yet. The ability to convert from one crypto to another will form the backbone of this new decentralized economy," Coinbase, one of the largest cryptocurrency exchanges in the world, said Wednesday in a statement.
http://platform.twitter.com/widgets.js