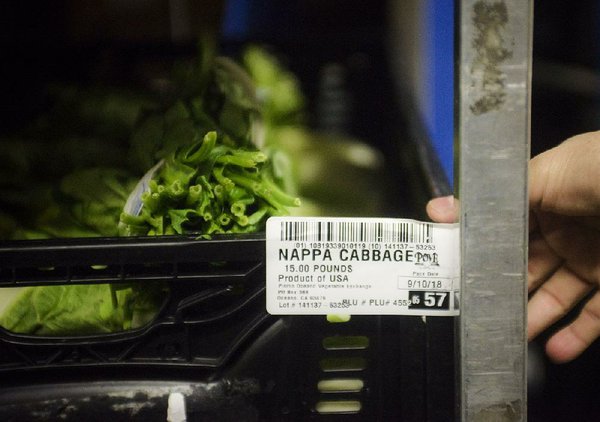 A tag at a Walmart store in Rogers describes the origin of a cabbage. Such tags are used in block- chain technology to help retailers track products. -
Photo by Charlie Kaijo

Business officials from far and wide met Friday at the University of Arkansas, Fayetteville to discuss blockchain technology and its practical uses, from eliminating paperwork to tracking chickens.
Blockchain is like a spreadsheet that is copied thousands of time across a network of computers that can be updated by stakeholders.
The selling point for companies is that blockchain can act as an accounting system that is not operated by one entity, which opens up new ways of doing business with others, officials said.
"Blockchain is a team sport," said Guilda Javaheri, chief technology officer of Golden State Foods, during a panel discussion Friday at the UA's Beyond the Headlines: Blockchains for Business conference.
Proponents call it a mechanism to efficiently store, track and manage transactions with other businesses in a secure way. That it improves transparency and traceability of valued items — like bottles of wine or car parts — throughout company supply chains, which adds a level of reassurance and accountability to customers and consumers that they are getting the products they agreed to buy.
About 1 in 5 bottles of wine is counterfeit, Chen Zur of professional-services firm Ernst and Young said during a session. In theory, blockchain technology would be able to immediately report everything about the product, in this case, from the wine ingredients to the labeling, from its origin and to store shelves, he said.
While companies' efforts to implement blockchain technology are in the early stages, there are signs of practical use as early as this year. But challenges persist.
One that officials kept bringing up was how companies are seeking out blockchain technology for unnecessary problems.
"It's such a big hype, the word has such a big stigma," said Gary Dowdy, J.B. Hunt Transport Services' vice president of engineering and technology.
Employees of Tyson and J.B. Hunt have worked on proof-of-concept projects to see how the technology can apply to their companies.
"Everything is still in the early stages," Dowdy said.
Tyson recently invested in startup FoodLogiQ to learn more about blockchain capabilities though its meat supply chain.
At Walmart, plans are underway to use blockchain technology to correct food-safety problems surrounding leafy greens. Direct suppliers had a January deadline to comply and upload their business data to the retailer's blockchain.
"I'm happy to report … we had over 90 percent compliance," said Tejas Bhatt, Walmart's vice president of food safety and health. Other suppliers have until September.
While some still have not agreed to Walmart's initiative, Bhatt said the main hurdle wasn't as much access as it was accessibility.
"The biggest challenge was getting it back to the farm," he said. At some point, the digital trail ended for suppliers and the paper trail began.
It also raises a more efficient way to conduct food recalls. When the Food and Drug Administration finds the source of a problem, the standard is to wait 24 hours for each step of the supply chain to respond, which could take days or longer before something is resolved, Bhatt said.
"We need to rethink that," he said.
Business on 03/30/2019
Print Headline: Blockchain tech's ins, outs topic of forum at UA
Sponsor Content